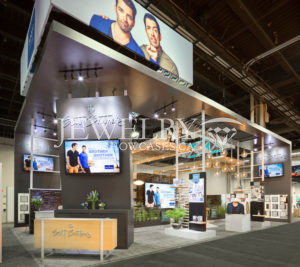 Trade show booths have evolved over the years. Regardless of your industry, there is an increasing demand to stay ahead of the competition by trying out the latest booth layouts, elements, and technologies.
More businesses are working with a trade show exhibit booths manufacturer to make their booth stand out from the competition. Trade show exhibit companies can provide customized designs and eye-catching elements to draw potential customers to your booth.
Why Should You Choose a Trade Show Exhibit Booths Manufacturer to work with?
Deciding to work with a trade show exhibit booth manufacturer may be an expense that your company did not budget for, but can help you save money in the long run. Choosing a professional booth company provides you with these benefits:
• Ordering a complete design can be cheaper than piece-mealing a booth together on your own
• Maximize your booth space
• If a design element is not in stock, dealers will work to create a custom solution
• Rental options save on storage fees
Work With a Trade Show Exhibit Booths Manufacturer for Increased Attention
Choose from custom rental and purchase options to add to your booth or create a personalized layout. Working with the right exhibit manufacturer will help you increase your brand awareness and get more return on investment.
Look for details like their references and their website so you can get a better understanding of the type of work. do. Most companies are happy to provide references upon request. Here are some things to consider when choosing which exhibit company is best for you.
Availability of In-House Graphic Designers
Many trade show exhibit companies are now offering in-house graphic designers that will work with you to create personalized graphics and images for your displays. This one-stop-shop approach will make ordering your trade show booth easier and more streamlined.
When choosing which trade show exhibit booths manufacturer to work with, be sure to ask them about design and setup fees. Some graphics companies will send you an estimate, but mark up certain services or charge hidden fees in their final invoice. This can be frustrating if your business or department has a strict marketing budget.
Use the Latest Technology
Signing on with a trade show manufacturer allows you to sample the latest trade show exhibit technology. To stay ahead of the curve, companies are utilizing innovative display and interactive elements to keep visitors engaged. Here are some upgrades you may consider.
• LED backlighting
• Offering a cell phone charging station
• 3D hologram displays
• Tablet kiosks
• Virtual reality experiences
While these trends are sure to get you noticed, everything comes down to cost. If you are renting these elements, ask your trade show booths manufacturer how many times they have rented these items out. Avoid getting displays that look too worn out or may not work properly. LED lighting packages usually come in rows of lights, so make sure all of the lights work.
Offer Rental Displays
Today, many trade show manufacturers are offering rentals to businesses who are starting, looking for a custom option, or are short on storage space. While rentals are great if you have a smaller business or a tight budget, companies looking to test out branding or are considering a company rebranding may benefit from renting a display. Renting takes away the long-term commitment to graphics, and elements that you may decide are unnecessary or need changing.
Trade show exhibit companies will also provide setup and cleanup services, or partner with companies that you can book through them. This will help your sales team focus on the day rather than assembling a large display.
Renting may not be the answer for all companies. Trade show exhibit booths manufacturer companies build rentals from prebuilt elements. Therefore, you may not be able to fully customize your design if certain elements are not in stock. Some of your elements may also come with wear and tear because they were rented out previously.
Custom Trade Show Displays
There is so much competition when attending trade shows, regardless of your industry. Many companies are looking to work with trade show manufacturers to build custom booth displays that will attract attendees' attention. Trade show exhibit companies now have creative staff ready to work with you to create a custom design that draws positive attention to your brand. You can customize virtually any part of your display, including these key elements.
• Dimensions
• Branding and graphics
• Floor plan
• Flooring
• Hanging structures
• Lighting
• Technology
Custom booth designs provide an innovative and captivating solution to drawing crowds to your booth. However, if you do not attend many trade shows each year, then having such a personalized design may be too costly. They are also a lot to set up logistically, and you need to train your staff or hire an outside company to help with setup.
If you are confident in your design and have the money to invest, a custom trade show booth is a guaranteed way to boost your trade show return on investment.
Reputation and Experience
As trade shows become more popular, so does the demand for trade show manufacturers. Some companies will offer you a proven reputation and years of experience helping businesses meet their marketing needs. Others may be newer and promise innovation, but lack a portfolio to back it up.
When you are researching trade show exhibit companies look for accreditations, like being a member of the Experiential Designers and Producers Association (EDPA). The EDPA is an internationally-recognized organization that recognizes exhibit manufacturers across the globe. Also look for customer-focused accreditations like badges from the Better Business Bureau. This will help assure management that you are spending your budget on a trusted business.
The Bottom Line
It has become increasingly competitive to attract customers to booths at trade shows. To compete in this changing market, trade show exhibit booth manufacturers have become more competitive by creating innovative displays to draw attention to your business.
Attending trade shows can be a significant expense for your business. Get the best return on investment by working purchasing your displays from a trade show exhibit booths manufacturer that best fits your company's brand.